Are you a New York landowner ready to part with your property and turn it into some extra cash?
If so, you don't need to rely on a real estate agent or developer—you can do it yourself! With the right tips, selling your piece of land doesn't have to be a daunting process.
Now is a great time to sell land in New York. But with the average New York real estate agent commission changing between three and six percent, it's no wonder many landowners choose to sell their properties on their own.
This article will cover exactly how to sell your land without engaging a real estate agent by covering the process and documentation.
Discover what you need to know before listing your land for sale right through to closing the deal with ease. So, if you are ready to take control of selling your New York land, let's dive right in!
Prepare Your New York Land for Sale
Like any property, you want to make sure that your land presents will. While this might mean less work than selling a property with improvements, you want to ensure that the property looks its best.
So clear any excess debris, make sure the foliage is cleaned up, and any fencing is well maintained.
Hire a Real Estate Lawyer
While hiring a real estate lawyer to assist in the sale of land isn't required in most states, in New York, it is the local expectation that both buyers and sellers have their own representation.
A real estate lawyer in New York will help you prepare the contract of sale and disclosures required to sell your property.
Documentation Required for Selling Land in New York State
Every state has its own regulations for selling property, with accompanying documentation requirements.
When selling land in New York, while you don't need to engage a real estate agent, you will need to hire a real estate lawyer.
One of the benefits of hiring a professional is that they will help ensure that you have the necessary and correct documentation required to complete the transaction.
This removes some of the burdens of owners who choose not to work with an agent.
Documentation required to sell land in New York is:
Property Condition Disclosure Statement (PCDA) – This document includes 48 questions pertaining to the state of the property. It includes basics such as ownership details before asking questions about environmental factors, structure details and damage, and mechanical questions. It is essential that owners disclose all material facts about a property, as not doing so could leave them exposed to legal risk.
Lead-Based Paint Hazard – If you have any improvements on your land built before 1978, you'll need to supply a Lead-Based Paint Hazard Disclosure to prospective buyers.
Flood Zone Statement – A buyer's lender will likely require a Flood Zone Statement, so it's best to have this prepared before listing your property.
The Deed – This document enables the transfer of property. Double-check your deed to make sure all details are correct, including the land description.
Certificate of Title – A Certificate of Title states that you have the right to sell a property.
Affidavits – Your real estate lawyer will put together required affidavits, including an "Affidavit of Title" and a name affidavit.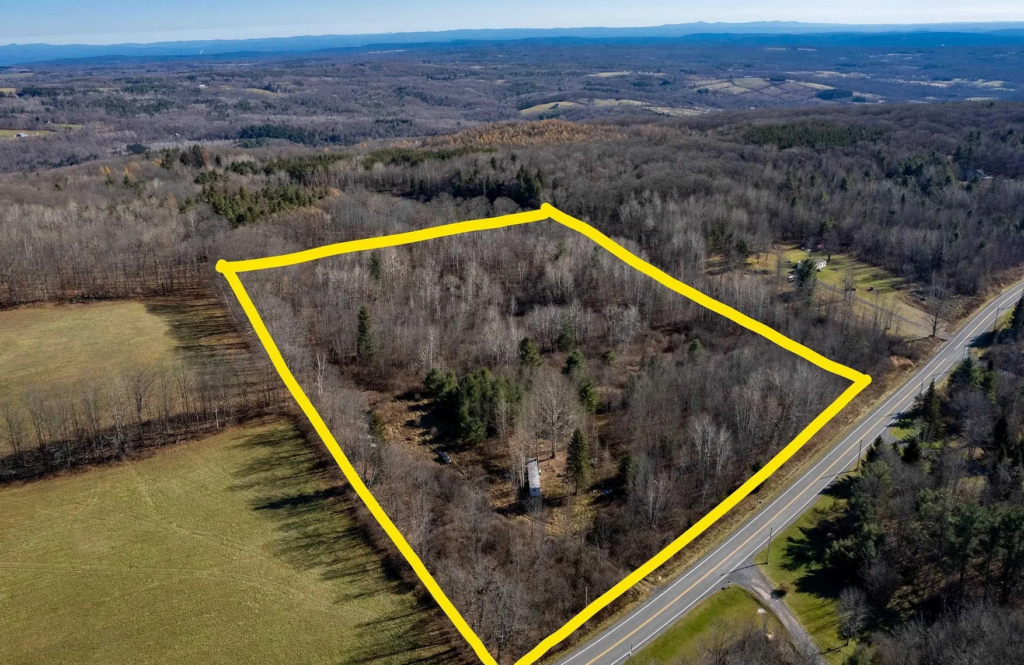 List Your Property for Sale
Before listing, you need to make sure you have a clear price.
Most land in New York is marketed by the square foot unless your property is very large, and in that case, it's priced by acre.
Look at comparable properties in your area to clearly understand your property's value.
In New York, you can list your property as For Sale by Owner on the MLS.
Property on the MLS will have the best exposure to potential buyers and real estate agents, which is important to your sale's success.
Include a detailed and attractive description of your property. Additionally, take and attach attractive photos of your property.
If you're not skilled in taking photos, hiring a real estate photographer to take professional photos of your property could be worth the added cost.
Remember, online listings are almost always the first impression a buyer will get of your asset, so it's critical to present it in its best light.
Lastly, make sure that you have clear signage on the property. This is help prospective buyers identify your land if they choose to drive by. Often buyers will drive by land before sending an email or making a phone call.
Tell Us About Your Land in New York You Want to Sell
Do you want to sell your New York vacant land the quick and easy way? An experienced land investor can handle all the legwork and get you cash fast for your land.
Fill out our form and tell us about your New York land. We'll send your property's information to our network of 12 individual land investors!