Here at sellthelandnow.com, our group of companies that buy land have helped thousand of property owners sell their land. We've used this real-world experience to compile our 'Sell My Land Checklist.'
Here are the 3 Must-Have Pieces of Information You Need to Sell Vacant Land…
Below we breakdown each of the 3 must-haves and how to find them.
And, we also cover…
8 Nice-to-Have Pieces of Information to Sell Vacant Land…
How much property tax is owed?
Are their any liens against the property?
Is there any money owed to an HOA or POA?
What is the current (and future) zoning of the property?
Are there any deed restrictions?
Is the property 'buildable'?
Is there a survey available?
What's the property's asking price?
#1 Your Property's Parcel Number
A parcel number is a unique set of numbers (and sometimes letters) that's used to identify a particular parcel of property.
Every piece of property in the US has some sort of parcel number. Parcel numbers are assigned to a property by a county, city or township government office.
Parcel numbers are also called…
Tax Map IDs
APN – Assessors Parcel Number
Parcel ID
Property ID
Geo ID
And…there are other terms
The first step if you're saying "I want to sell my land" is to find out your property's parcel number.
The parcel number will clearly identify which property you want to sell.
It will be used by real estate agents, title companies, lawyers, county officials and…your prospective buyer to identify your piece of vacant land.
How to find your property's parcel number:
Look at your property tax bill
Call the county, city or township on where your property is located
Look up your property on the Property Assessors' website
Check out our article on how to find your property's parcel number on the Property Assessor's website…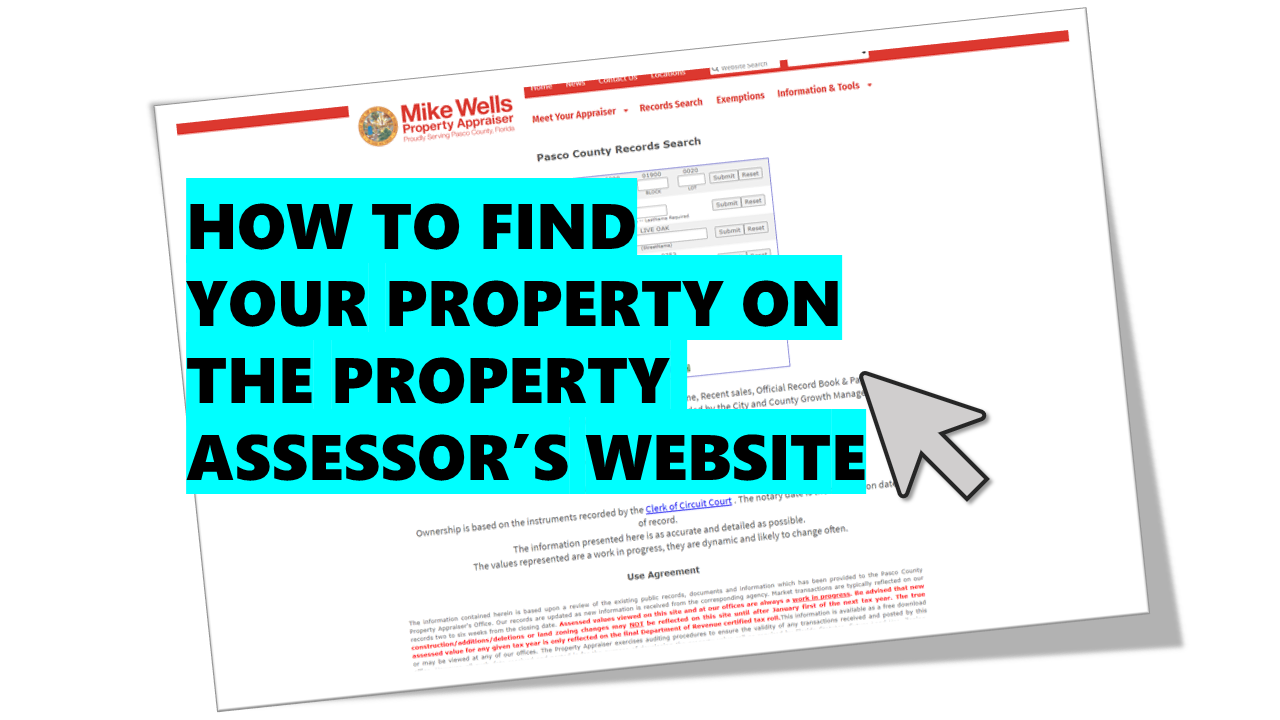 #2 The Legal Right to Sell Your Land
It's a lawyer's job to determine who has the right to sell a piece of property.
A sale of vacant land won't be 'official' until a title search or abstract is completed by a title company or real estate attorney.
If you purchased the property with a warranty deed then there's a really good chance there won't be any issues when it comes time to sell your land.
The question of who can legally sell land can come in to play if…
You inherited the property
There are multiple owners of the property
If one of the property owners has died
The property is in an estate or trust
The property is owned by a company
If you're in any of the above situations take look at the property assessor's website to see who the owner of record is (or at least was) when the property was last transferred.
If someone has passed you may need to go through the probate process – depending on the state.
Calling a title company in the area where your land is is a great way to get some guidance if you will need to do anything in order to have the legal right to sell your land.
#3 A Purchase and Sale Agreement
A Purchase and Sale Agreement is a contract between you (the seller) and a buyer.
These contracts can be simple, one-page agreements to sell my land or they can be complex documents that can fill up a binder!
We detail more about Purchase and Sale Agreements for Vacant Land in this article, but in short, your agreement should include…
The seller's contact information
The buyer's contact information
The property's Parcel Number (see item #1 on the 'Sell My Land Checklist')
The purchase price
Who is paying for what closing costs
In order to have a Purchase and Sale Agreement you need a seller (that's you!) and a buyer.
Check out these articles on how to find a buyer for your vacant land…
In short, if you're looking to sell your land fast to a land buyer these are the most basic, 3 must haves in order to sell your land.
If you're ready to roll up your sleeves and do more homework on the land you want to sell then consider…
8 Nice-to-Have Pieces of Information to Sell Vacant Land…
#1 Property Taxes
Property taxes accrue every day.
So, unless you paid your property taxes yesterday, there will be owed property taxes when it comes time sell your vacant land.
In a traditional real estate transaction the seller 'pays up' the owed property taxes at closing.
#2 Liens
Title companies and real estate attorneys can uncover liens against the property.
Knowing if – and letting your prospective buyer know upfront – there are any liens on the property can save the sale of your vacant land from 'falling through.'
Most common liens placed on a property are…
Liens from past due medical bills
Bank or mortgage liens
Liens stay with the property, not the individual. If you sell the property you are no longer responsible for the lien.
#3 Money Owed to an Home Owner's Association (HOA)
If your property is in an HOA there's a chance the HOA will require some sort of transfer fee to sell your property.
Who will pay for this transfer fee is something that can be negotiated with your buyer.
An Estoppel Letter from the HOA will be required to sell your land.
An Estoppel Letter is a notice from the HOA that tells your prospective buyer how much money is owed (if any) to the HOA.
#4 Zoning
What is the current and future zoning for the property?
Are mobile homes allowed to be placed on the property?
What about farm animals?
Place a call to the area zoning or planning department and find out.
#5 Deed Restrictions
Are there any deed restrictions (sometimes called restrictive covenants) for your property?
Deed restrictions can limit things like…
Size and type of house on the land
If/where you can put a fence
What kind of pets or livestock you can keep
Even rural properties can have deed restrictions.
#6 Is the Property 'Buildable'
Will the county/city/township issue a permit to build?
Do you have that in writing?
#7 Survey
A survey will point out if there are any easements – someone else being able to access your property for a certain reason – on your land.
#8 Asking Price
And, lastly, use these websites to help determine a realistic asking price for your vacant land.
Want to Sell Vacant Land Without the Hassle?
Ready to skip all the headache and sell your land the quick and easy way? Tell us about the vacant land you want to sell. We'll send your property's information with 12 different land buyers who are actively buying vacant land.