Setting a price for a used car is pretty easy. You can use tools like Kelly Blue Book to determine a fair price.
But, to sell vacant land? That can be a little trickier. 
Questions to Ask to Set Your Asking Price to Sell Vacant Land
How quickly do you want to sell?
Are you able to show your land to prospective buyers?
Do you have a survey or any other documentation about your vacant land? 
Are you willing to pay a 10% commission to a real estate agent to help sell your land? 
Have you found accurate comparable sales? 
1. How Quickly do You Want to Sell Your Land?
Are you looking to sell your vacant land fast – in under 3-4 weeks?
If this is the case, consider setting an asking price below the market value.
A lower price will make your vacant land more attractive to real estate investors who are comfortable in writing a check now versus a "retail" buyer who may need time to think about it.
By setting your asking price somewhere below market value you can also attract cash buyers for land.
A cash buyer – someone who doesn't need a loan to purchase buy your property – can typically close within just a week or two.
Whereas a buyer who will require a loan from the bank can take up to 60 or even 90 days to complete the transaction.
If You Want – or Need – to Sell Your Vacant Land in Under 3-4 Weeks…
2. Are you Able to Show Your Land to Potential Buyers?
If your land for sale is on the other side of town or even in another state consider the time it would take you to drive to your vacant property and meet a potential buyer.
Many times people who buy land want to know who they are dealing with to make sure they are getting an honest deal.
If you're unable to physically go to your property and meet a potential buyer you may be losing out on a sale. 
If You Are Unable to Meet Prospective Buyers at Your Vacant Land…
3. Do you have any sort of Documentation or Survey of your Vacant Land?
What are the exact boundaries or property lines of the parcel?
Have you conducted a percolation test to ensure water drains through the soil properly?
Can you confirm the zoning restrictions for the parcel?
These are just a few of the questions you may get from potential land buyers.
The more documentation you have to answer these questions the higher the comfort level of buyer would have about purchasing your property – therefore, the higher price you may be able to fetch.
If you plan to sell your land on your own plan on investing in percolation tests, surveys and environmental studies in order to fetch top dollar.
Here's a list of documentation land buyers may ask for…
Many times, a professional land buyer, won't require a seller to provide any of this documentation.
In fact, performing things like a percolation test, hiring a surveyor, contacting the county zoning department is part of what a professional land buyer does in order to then sell vacant land at a 'retail' price.  
4. Are you Comfortable Paying a 10% Commission to a Real Estate Agent to Sell Your Vacant Land?
People looking to sell their vacant land can turn to a local real estate agent.
But, consider when setting an asking price that a real estate agent typically charges a 10% commission when selling unused, raw land.
For certain types of vacant land properties it may make more sense to sell by owner versus hiring a realtor.
Check out our "4 Reasons Why Not to Hire an Agent to Sell Vacant Land." 
However, if you're looking to sell vacant land at top dollar and you aren't able or willing to show your land to prospective buyers, then hiring an agent may make sense for you. 
If you do want to hire a real estate agent to sell your vacant land…
5. Have you found Accurate Comparable Sales of Your Vacant Land?
The county's property appraiser office or tax collector's office typically keep accurate records on recent transactions of vacant land.
Unlike what you see through online real estate websites like Zillow.com or Realtor.com, the property assessor's office records all transactions.
You may be surprised to see that vacant land in your area sells for much less than you think.
Search the property assessor's website to find ALL actual sales in your property's area. Don't just rely on 'For Sale' listings on the internet.
Here's a step-by-step guide to find your property on a property assessor's website.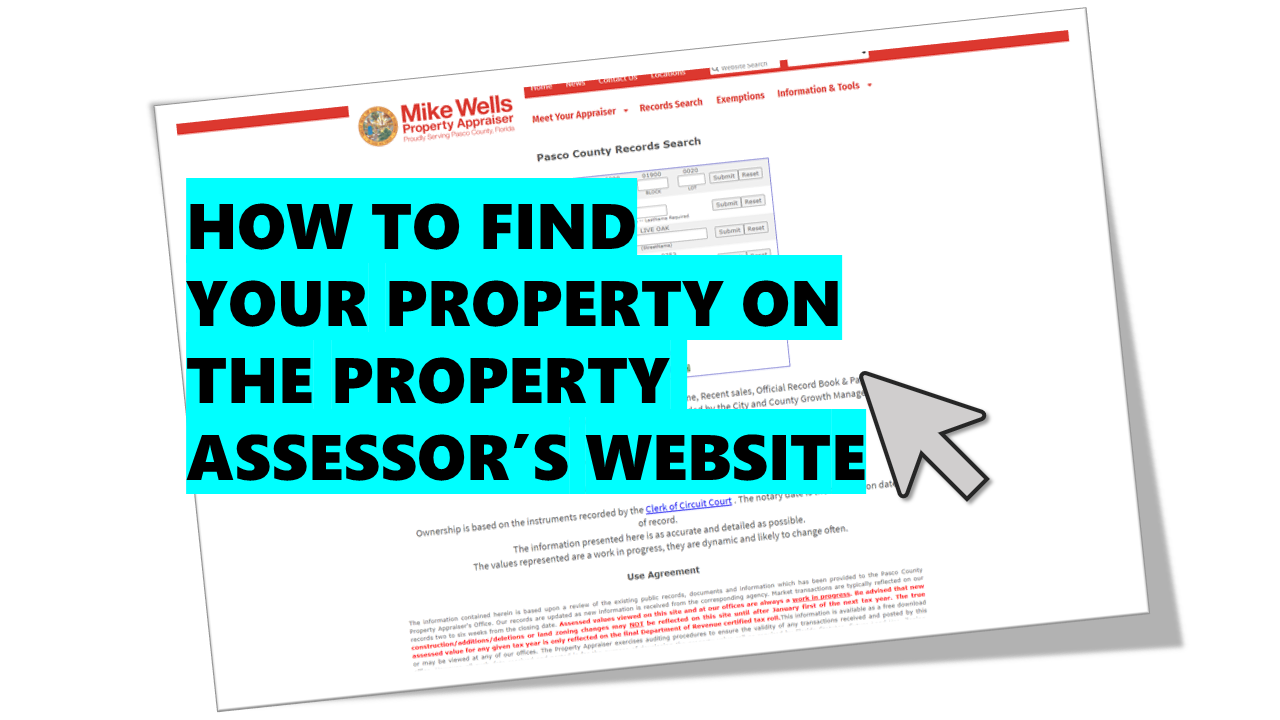 A few more things to consider when you want to sell vacant land…
There are Companies That Buy Land
An alternative to the time and energy it may take to sell vacant land on your own is submitting your property to a 'we buy land' company. We've all seen those 'We Buy Ugly Houses' signs and ads. Well, there are 'We Buy Land' companies too!
These companies are real estate investors that specialize in paying cash for vacant land.
These companies typically buy vacant land for cash in just a few weeks in exchange for a discounted purchase price. These types of companies are an option for people who want to sell vacant land quickly without the hassle of dealing with real estate agents or selling it themselves.