Here at SellTheLandNow.com, our network of experienced land investors have sold thousands of vacant land properties by owner.
We've used this experience to prepare our 'How to Sell Land By Owner' guide.
In this guide you'll learn the 5 steps the pros use to sell vacant land by owner…
Try the 'We Buy Land' Websites
Place a For Sale Sign and Take Photos
Get Your Property on the Internet
Hire a Title Company or Real Estate Attorney
As the saying goes…"time is money." Selling vacant land without a real estate agent can suck up a good amount of your time.
But, selling land on your own saves you thousands of dollars – maybe even tens of thousands – in real estate agent commissions.
And hiring a right real estate agent isn't a guarantee that your vacant land will sell. We listed the reasons why not to hire a real estate agent to sell vacant land in this article.
Selling land by owner can be a smart move if you're willing to put in the legwork.
Step 1 – Try the 'We Buy Land' Websites
Start the process by seeing if a professional land buyer would want to buy your vacant land property – and for how much. By 'shopping' your vacant land to vacant land investors you…
Could sell your property quickly without the hassle of selling land on your own
Get a 'bottom end' price on what your land will actually sell for
A quick internet search for 'we buy land' will give you the names of dozens of land buying companies.
Save some time and fill out our We Buy Land form and contact 12 land buyers all at once!
A big plus for some vacant land owners is that a professional land buyer makes the process of selling land by owner quick and easy.
You won't need to market your property, negotiate with prospective buyers and work through the legal paperwork.
Investors can make the process of selling your land quick and easy.
Other vacant land owners look to get every dollar they can from the sale of their vacant land.
By getting real, cash offers for your vacant land you will have a 'baseline price' to work with.
Offers from the 'We Buy Land' guys aren't top dollar. But, you will get an idea of what your land is worth.
Check out our article on how to determine a price for your vacant land.
The biggest factor in selling land by owner is the price you're willing to accept.
Step 2 – Place a For Sale Sign, Take Photos
So you have a cash offer for your vacant land from an investor and you've determined your vacant land's asking price…here's what's next…
You'll need to visit your vacant land to take quality marketing photos and place a For Sale sign on the property. This is pretty easy to do if your vacant land is physically close to you.
Do I really need to place a For Sale sign on my property?
Yes! Take it from the pros – get a For Sale sign on your vacant land you want to sell no matter what. Here's why…
You'll let the neighboring property owner know that you are selling your vacant land. Neighboring property owners are some of the most likely people to buy your vacant land.
It will help prospective buyers who want to 'walk your property' know where your vacant land actually is. This is extremely helpful if your vacant land doesn't have a mailing address.
If you're unable to travel to your vacant land then we recommend hiring a person to take the photos and place the sign for you.
Craigslist is our land buyers go-to website to find someone looking to take on the job.
Here are a few tips on hiring someone off of Craigslist to take photos and place a For Sale sign…
Post your Craigslist ad under the "Gig Offered" section
Be as specific as possible when describing what photos you want
Instruct the photographer to capture at least 5 photos
Photos should include the road and the property in the shot
Be specific on the type of For Sale sign
Get a photo of the sign placed on the property – this will help buyers locate your vacant land you want to sell
Get a photo closeup of the sign – so someone could read your phone number on the photo
Here's an example Craigslist ad our land buyers use to sell land by owner…
I'm looking for someone to take 'marketing' pictures of an empty lot and put a For Sale sign.
Your camera phone will be fine…as long as the pictures look good. Please be sure that all pictures are horizontal / landscape (not vertical).
Please no pictures with your car in the background or your shadow. Looking to have about 3-5 quality pictures I can use in online ads to help sell the property.
The property is located is near the corner of  36th Ave and 145th St in Summerfield. Let's chat on the phone first and then I will send all the details.
You'll need to go to Home Depot, Ace Hardware, Lowes or Walmart and purchase a METAL FRAME For Sale Sign. See the picture in this ad. This should cost about $20. And, if needed, purchase a big black marker to write on the sign.
The property is located off a DIRT ROAD.
Pay is $50. Plus, I will reimburse you for the For Sale sign and marker.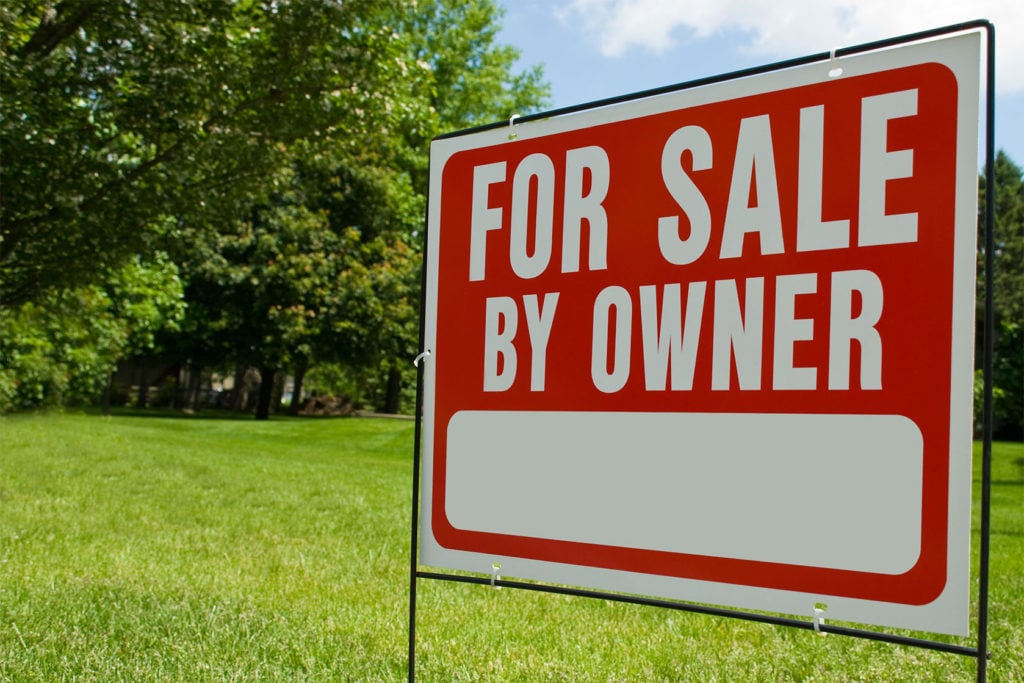 Step 3 – Get Your Vacant Land Property on the Internet
For selling land by owner, marketing your property on the internet is a no-brainer. With the internet, you have ability to sell your land to anyone in the world. Think about the people who maybe moving in to your property's area from another town or even another state.
Here's the list of the top three websites our land buyers use to sell land by owner…
Zillow – it's free and is used by people actively looking to buy vacant land
Facebook Marketplace – if you don't have a Facebook account consider asking a friend who is active on Facebook to post on the marketplace for you
The MLS – expect to pay anywhere between $100 – $300 to have a real estate broker create a MLS listing on your behalf
Check out our article – Free Websites to Sell Your Land Fast – for tips on how to use Zillow and Facebook Marketplace.
Step 4 – Complete a Vacant Land Purchase Agreement
Once you've found your buyer and negotiated a price, you'll need to write the terms of the deal on what's known as a Vacant Land Purchase and Sale Agreement. Consider this agreement as an 'order' that you'll be providing to the title company or attorney (more on this below).
A Vacant Land Purchase Agreement will outline…
The exact parcel of land being sold
Who is selling the vacant land
Who is buying
What is the purchase price
When should the transaction be closed
Download our Simple Vacant Land Purchase Agreement. This is a free template you can use to write up your agreement.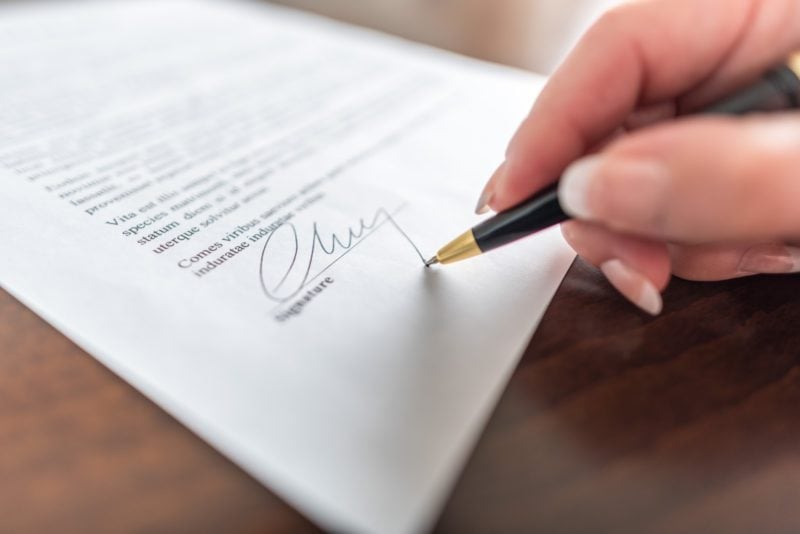 Step 5 – Hire a Title Company or Real Estate Attorney
Okay…home stretch! You have found your buyer and they have signed a purchase agreement.
In real estate lingo – you are 'under contract.'
We strongly recommend having a title company or real estate attorney handle the transaction. This makes selling land by owner risk-free for you.
The first step is to determine whether your state (the state the land you are selling by owner) requires a real estate attorney to conduct transactions.
Here is a state-by-state guide to quickly determine if you need to hire an attorney to oversee your sale of vacant land.
If your state does not require an attorney to conduct real estate transactions then you will be looking to hire a 'title company,' 'title agency,' or 'escrow agent.' All of these terms generally mean the same thing.
Call three different title companies (or real estate attorneys). These title companies (or attorneys) should be located in the same county as where your land is located. 
You'll find that, generally, the fees the title companies or attorneys charge are about the same. But, by calling a few different title companies, you'll get an idea of which one you would like to work with. 
We can't stress enough the importance of hiring a professional to act as a middleman between you, the seller, and your buyer. Read our article on How to Sell Land Online and Not Get Scammed for more details.
---
Recap: How to Sell Land By Owner Resources…
---
How to Sell Land By Owner the Quick and Easy Way…
Let us give you a cash offer for your vacant land. Our network of 12 professional land investors have helped hundreds of people sell land by owner. Complete our form and tell us about the land you want to sell.