Is it time to sell your vacant land? Use these three websites to help determine how much you should sell your land for.
And…the best part is all of these websites are free!
1. Property Appraiser's Website
The first website to visit is the Property Appraiser's website.
Every piece of property in the US has a dollar value attached to it.
It's the job of the local Property Appraiser to determine this value.
In most states, the Property Appraiser is at the county level.
However, in some areas of the country, Property Appraiser work at the city or township-level.
You'll first need to identify who the Property Appraiser is for the area where you vacant land is located.
Once you're at the Property Appraiser's website you'll want to lookup the Parcel Number (sometimes called a Parcel ID or Tax Map Number) for your vacant land.
This number is unique to your property.
This Parcel Number will be need to be included on the legal documents you sign when it comes time to sell.
In addition to finding the Parcel Number you can find the property's assessed value on the Property Appraiser's site.
The assessed value is used to determine how much in property tax is to be paid.
Some Property Appraiser's also determine and provide a market value.
This market value is what the Property Appraiser thinks the property would sell for in a typical, 'retail' sale.
The values determined by the Property Appraisers can be wildly inaccurate from true market conditions.
And, some county or township Property Appraisers do an excellent job of determine true value of a property.
At least knowing the assessed (and, even better the market value) published by the property appraiser is a starting point in figuring out how much you should sell your land for.
Click here for some helpful tips on finding your property's Parcel Number.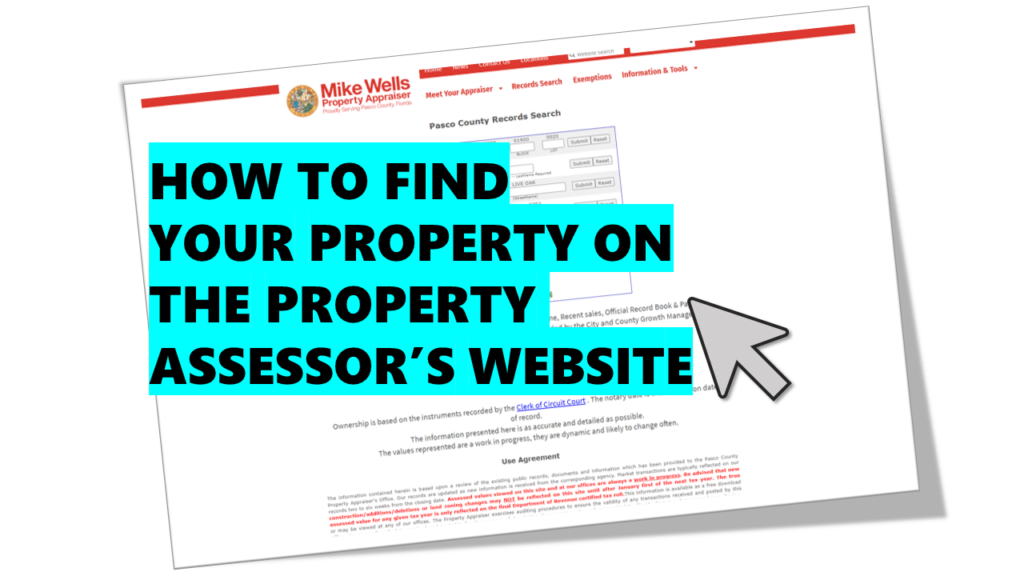 Zillow is one of the largest real estate websites on the web.
What makes Zillow great is that it compiles all the listings on the MLS (properties being sold by a real estate agent) and For Sale by Owner listings.
Many vacant land owners prefer to bypass a real estate agent and sell their vacant land on their own.
For this reason Zillow is a go-to website to understand what price vacant land is selling for in a given area.
Here are some tips on navigating Zillow…
Start by looking at the active listings for vacant land in the geographical area where your property is located.
Try to find listing that are similar in property size.
Take note of how long the property has been on the market. If the property is on the market for 100+ days that's a sign that the property may be overpriced.
Does the listing have a lot of 'views' and 'saves'? If the property doesn't have over 100 views that's a sign that there may not be much demand for vacant land in this area.
Toggle over to the 'Other Listings' view within Zillow to see any For Sale By Owner listings.
There are dozens of "We Buy Vacant Land" websites out there.
Behind these websites is a real estate investor that focuses on buying vacant land.
You can submit your vacant land property's information through the website and have a real estate investor provide a cash offer to buy your vacant land.
These "We Buy Land" websites won't offer full 'retail' value for your property (they are investors) but could be an option to explore if you're looking for a quick and easy sale.
And, the price these investors offer you can give you a 'rock bottom' number to help you determine the right price for you to sell.
You can save some time and headache by submitting your vacant land's information on our website!
Unlike other We Buy Land websites, SellTheLandNow.com connects you with 12 different investors all at one website.
Click here and fill out our form and investors will send you their cash offers.
What about calling a real estate agent in the area to help determine a price?
We highlighted some of the reasons real estate agents might not be the best option to help sell your vacant land in this article.
If you do want to hire an agent to list your property or at least give you an idea of what they think the property will sell for then take the time to find an agent who has sold vacant land in the area in the past.
Most agents are focused on selling houses and may not have strong experience in pricing vacant land in the area.